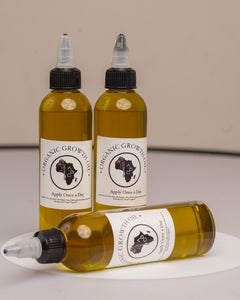 -Our Organic Growth Oil is a light handmade growth oil made with special herbs , it is made to boost your hair growth! Leaving with with a very refreshing sent! You will see results in 3 weeks if used consistently. This oil is to be used once a day! * This product may contain nuts if you're allergic to nuts be cautions *
size : 4oz
DISCLAIMER: *These statements have not been evaluated by the FDA. This product is not intended to diagnose, treat, cure or prevent any disease or condition. I am not making medical claims, this is not intended to treat cure or heal, I am not promising a cure. This product is made with all natural ingredients. If you are allergic to any of the ingredients do not use the product. If you are unsure if you are allergic, please do a 24hour skin test prior to full application. We are not liable for any illness or allergic reaction. Minimal itching/tingling is expected with use.
Can be safely used for HAIR USE ONLY.
Excited
Just open my package so I can start my hair journey can't wait to see my results
African Organic Oil
No problem
Thank you for my order sweetie 💈🥰🥰💘💌💘🥰🥰
Amazing
I brought my hair oil 2 weeks ago & I already see my hair growing out I love it when I'm done wit this bottle im gonna purchase another one
A++++ service. Thank you!